Our church does not have many children in each age group.  We decided to combine all ages into one class ( ages 1 to 10).  Creating lessons for multiple age groups, can be a challenge.   All the children are in the church service for worship and then they go to our Sunday school class for 30 – 40 minutes.  I needed to come up with quick lessons that can be completed in 30 minutes.
I decided to start at the beginning in Genesis.  Doing a lesson/bible story from each book of the bible, with the focus on each book of the bible.
I found flash cards for each book of the Old and New Testament by  1+1+1=1. I printed these onto colored card stock, cut each strip, folded the strip in half, taped the edge, punched a hole and attached them all with a ring. Print Cards
I printed the lesson outline and craft from The Big Book of Bible Story Activity Pages 2 (with CD-ROM) (Big Books)
I found the lessons to go with each bible story for the older kids from Calvary Curriculum.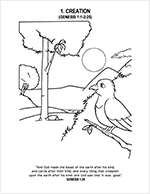 My son has really enjoyed creating lap and unit study books.  I decided to have him glue each of the activities that we do, for each book of the bible into a notebook.  I wanted to continue going over the lessons in our homes school curriculum.   I purchased an inexpensive bible stories workbook ($4.99) that includes a music cd.  My son enjoys creating the mini books and pasting them into his bible unit study book.
This blog contains Amazon Associate links.  I receive a small percent of money for any items that are purchased from links on my blog.  Any product that I provide a link to, is a product that I use myself.  I thank you for your support.