Germs, Germs Germs are everywhere.  Flu and cold season is just around the corner.  Teaching young children about germs and how they can stop the spread of those bad guys that make us sick.  Let's find out more……
The Let's Find Out and Science spin are great resources for teaching kindergartener's social skills, science and more.
Pretend play is a great way to teach life lessons.  My son enjoys dressing up and teaching his stuffed animals about being healthy.
The Magic School bus has a great episode about germs and how they work in our bodies.

Hand washing with Sid The Science Kid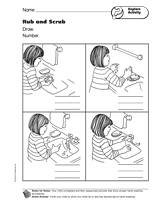 I printed pages 3 and 4.  He will color each picture , cut them out and create a book to put into his science unit book.  You can also, print the colored version of these pages onto card stock and use as flashcards about germs.
I printed this poster and laminated it.  I plan to use this poster each Autumn before cold and flu season to teach about germs.
Below is a great wash your hand poster.  I am going to print 2 copies, 1 a poster and the other to cut out and create a sequencing project.